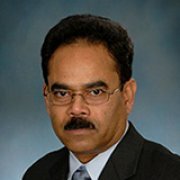 Hafiz Ahmed
Dr. Hafiz Ahmed has been an Assistant Professor at the University of Maryland Biotechnology Institute (Baltimore, Maryland, USA) since 2002. Dr. Ahmed received a PhD in biochemistry for his work on the purification and characterization of carbohydrate-binding proteins (lectins) from plants, invertebrates, and bacteria. As a postdoctoral fellow at Max Planck Institute for Experimental Medicine (Gottingen, Germany), Roswell Park Cancer Institute (Buffalo, New York, USA), and University of Maryland Biotechnology Institute, he conducted studies on animal lectins, especially on the structure and functions of galectins and C-type lectins. He has published several book chapters and more than 60 original articles in peer-reviewed journals. He authored a book entitled "Principles and Reactions of Protein Extraction, Purification, and Characterization", (CRC Press, 2004) and co-edited a book entitled "Animal lectins: a functional view" (Taylor and Francis, 2008). He served as a reviewer of grant proposals and research articles for many journals. Dr. Ahmed is the current editor-in-chief of Organic Chemistry Insights, published by Libertas Academica.
His current research interests are the identification of galectins and their carbohydrate ligands, and the detailed understanding of the molecular mechanisms and downstream effects of these protein-carbohydrate interactions that mediate cell-cell and cell-extracellular matrix interactions in normal growth development and cancer metastasis. Several multidisciplinary methods encompassing protein chemistry, cell biology, molecular biology, epigenetics, carbohydrate chemistry, organic chemistry, and analytical chemistry are employed for this purpose.
The Role of the Editor in Chief
The editor in chief is responsible for editorial decision-making on papers submitted to the journal. The editor in chief is also responsible for editorial matters that include but are not limited to journal supplements, the journal's aims and scope, the editorial board and volunteer peer reviewer pool, editorial assessment of video abstracts, assignment to published papers of endorsements, and for consulting on pre-submission inquiries from authors.