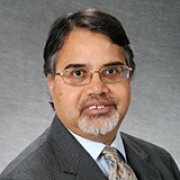 Goberdhan P. Dimri
Dr Goberdhan P. Dimri is an Associate Professor of Biochemistry and Molecular Biology at the George Washington University Medical Center (GWUMC), Washington DC. Prior to coming GWUMC, he was an assistant professor in the Department of Medicine, Feinberg School of Medicine, and a member of Robert H. Lurie Comprehensive Cancer Center, Northwestern University, Chicago, IL. He also served as a Senior Scientist at the NorthShore University HealthSystem Research Institute (previously Evanston Northwestern Healthcare Research Institute), Evanston, IL, and was associated with the Biological Sciences Division, Pritzker School of Medicine, University of Chicago, Chicago, IL.
He received his Ph.D. in Environmental Sciences from J. N. University, New Delhi, India, and his postdoctoral training in Cancer Biology at the Lawrence Berkeley National Laboratory, University of California at Berkeley, Berkeley, CA. After completing his postdoctoral training, Dr. Dimri joined the Department of Radiation Oncology at the New England Medical Center, Tufts University, Boston, MA, as an assistant professor.
He is the author of over fifty peer reviewed articles and reviews. He has received numerous honors and awards during his career and is the member of numerous professional bodies. He has served as peer review panel member for various national and international grant funding agencies. He also serves as an ad-hoc reviewer for cancer biology related journals. His expertise is in the field of cancer and aging, particularly breast cancer. His laboratory is studying the role of the polycomb group proteins and senescence regulatory genes in the progression of breast cancer.
The Role of the Editor in Chief
The editor in chief is responsible for editorial decision-making on papers submitted to the journal. The editor in chief is also responsible for editorial matters that include but are not limited to journal supplements, the journal's aims and scope, the editorial board and volunteer peer reviewer pool, editorial assessment of video abstracts, assignment to published papers of endorsements, and for consulting on pre-submission inquiries from authors.