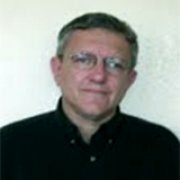 Gabor Mocz
Dr Gabor Mocz is a Professor/Specialist in Biochemistry at the Pacific Biosciences Research Center at the University of Hawaii, where he is the Director of the Frederick Greenwood Molecular Biology Core Laboratory. He has served (twice) as elected Chair of the American Chemical Society Hawaii Section and as Vice-President of the Hawaii Society of the Federation of Asian and Oceanian Biochemists and Molecular Biologists.

Dr Mocz has a MSc in Chemistry and a PhD in Biochemistry from Eötvös Loránd University, the largest, oldest and most prestigious academic institution in Hungary. He then became a postdoctoral fellow at the Boston Biomedical Research Institute before returning to his alma mater in Hungary to lecture and conduct research in Biochemistry. He then moved to Hawaii to his current institution where he leads a bioanalytical core laboratory in their Biotechnology Program. Dr Mocz's major research interest is the molecular basis of muscle contraction and cell motility. More recently he has been studying the broad area of biomolecular interactions and their applications in protein folding, molecular modeling, and fluorescence.

Dr Mocz has published over 50 refereed articles, book chapters, review papers, and symposium proceedings on biochemistry. He has presented invited talks, received grants and research support from federal and state funding agencies, is involved in many professional organizations and committees and reviews for journals and granting agencies. He is listed in 2000 Outstanding Scientists of the 20th Century, and has received the International Medal for Scientific Excellence from the American Biographical Institute.
The Role of the Editor in Chief
The editor in chief is responsible for editorial decision-making on papers submitted to the journal. The editor in chief is also responsible for editorial matters that include but are not limited to journal supplements, the journal's aims and scope, the editorial board and volunteer peer reviewer pool, editorial assessment of video abstracts, assignment to published papers of endorsements, and for consulting on pre-submission inquiries from authors.