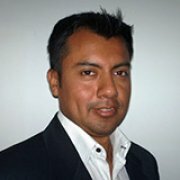 Carlos Alberto Martinez-Huitle
Dr Carlos Alberto Martinez-Huitle is currently an Associate Professor at the Institute of Chemistry, Universidade Federal do Rio Grande do Norte where he is vice-coordinator of postgraduate chemistry programmes and is associate coordinator of Formation of Human Resources Program 22 (PFRH22). Previously Dr Martinez-Huitle was as a faculty member at the University of Milan, Italy. His research work is focused on environmental electrochemistry, Electrocatalysis (electrochemical oxidation of organic pollutants), Electroanalysis and Electrochemical soil remediation.
Dr Martinez-Huitle works in the "green chemistry" field, developing new remediation methods for environmental protection, such as chemical/electrochemical processes for wastewater treatment. He has published 70 articles and is the author of a book entitled Synthetic diamond films (Wiley & Sons 2011).
Dr Martinez-Huitle graduated from the Universidad de las Américas in Puebla, Mexico having studied Chemistry and alternatives for wastewater treatment. Earning a PhD from the University of Ferrara in Chemical Sciences, Dr Martinez-Huitle received recognition for the Best Italian PhD Thesis in Chemical Sciences and he was also recognized by the International Society of Electrochemistry, obtaining the Oronzio and Niccolò De Nora Foundation Prize of ISE on Environmental Electrochemistry due to the scientific contributions in the field of the environmental protection applying the Electrochemistry.
The Role of the Editor in Chief
The editor in chief is responsible for editorial decision-making on papers submitted to the journal. The editor in chief is also responsible for editorial matters that include but are not limited to journal supplements, the journal's aims and scope, the editorial board and volunteer peer reviewer pool, editorial assessment of video abstracts, assignment to published papers of endorsements, and for consulting on pre-submission inquiries from authors.